I have recently become very addicted to
Pinterest
, spending hours looking through people's pins, finding crafts I would love to try and recipes that sound amazing. One day last week I decided that I was going to stop imagining what one of them would taste like and actually make it. The recipe I decided on was a
Cheesy Chicken and Wild Rice Casserole
. From the recipe it sounded delicious, not exactly healthy, but delicious nonetheless.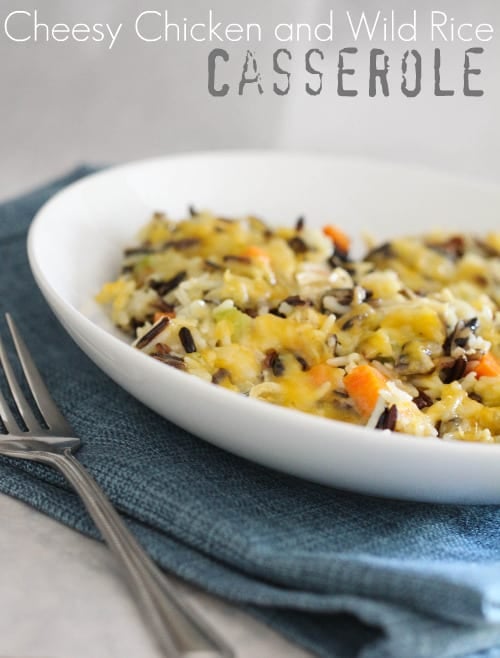 Cheesy Chicken and Wild Rice Casserole
3 Tablespoons extra virgin olive oil
1 medium onion, finely diced
3 stalks celery, finely diced
3 carrots, peeled and diced*
*I subbed for sliced mushrooms
2 Tablespoons fresh minced garlic
2 Cups shredded, cooked chicken breast
2 Cups steamed white rice (1 cup dry)
16 oz prepared wild (1 cup dry)
1 teaspoon kosher salt
½ teaspoon black pepper
¼ teaspoon garlic salt
______
Cheese Sauce
4 Tablespoons butter
¼ Cup all-purpose flour
¼ teaspoon kosher salt
¼ teaspoon black pepper
2 Cups chicken broth
2 Cups shredded cheddar cheese
Top with 1 ½ Cups shredded cheddar cheese*
*I used a little more cheese on the top because 1 ½ cups wasn't enough to cover everything.
1. Preheat oven to 350 degrees F. Heat oil into a medium dutch oven or pot over medium heat. Sauté onion, celery and carrots until softened, about 10 minutes. Stir in garlic and cook for 1 minute. Stir in chicken, both rices, salt, pepper and garlic salt. Reduce heat to low.
2. To prepare cheese sauce: melt butter into a medium saucepan over medium high heat. Whisk in flour, salt and pepper then slowly pour in chicken broth whisking continuously. Whisk until thick and nearly boiling then stir in cheese until melted. Pour cheese sauce into rice mixture then transfer to a 9×13 inch baking dish. Top with additional cheddar cheese and bake for 25-30 minutes or until cheese is melted through. Serve. *I cooked for only 22 minutes and it was plenty so be careful not to burn it!
8-10 servings
I made a special trip to my local Bel Air to pick up extra ingredients I would need since my Safeway doesn't have a bulk foods section for things like whole grains, rice, etc. I decided to sub carrots for sliced mushrooms because neither my boyfriend nor I care for cooked carrots, and I had to use extra cheese on top in order to cover the whole dish.
Left: ingredients ready for the cheese sauce
Right: ingredients prepped to be sautéed
In all, it took me approximately two and a half to three hours (maybe a bit more) to prepare and cook, but I think it was totally worth it. I cooked the white and wild rice together in my rice cooker, using the brown rice settings knowing that the wild rice would have to cook a bit longer than the white, and it worked out great! Plus it saved me some time from having to cook them 20+ min. each separately. I also had to pre-cook the chicken before sautéing the veggies, but that didn't take long.
Once the rice was done, I sautéed the veggies for 10 min. as the recipe calls for, added the garlic and chicken, and let it simmer while I prepared the cheese sauce. The recipe said to "whisk continuously until the sauce [became] thick and almost to a boil". What it didn't say was how long that would take! It probably took about 15 minutes for this to happen. If I had known how long it would take, I probably would have started it at the same time as the veggies.
Top: veggies and chicken in the pan
Bottom: all mixed together with the cheese sauce
Once everything was mixed together and placed in the oven, I set my timer for 22 min. even though the directions said to let it cook for 25-30, and it turned out to be perfect. If I had let it go any longer, the cheese on top would have burned, so be aware if you decide to make it yourself.
The finished product
This is probably the most work I have ever put into a dish, and let me tell you, I was worried it was going to turn out terribly! BUT turns out it was amazing, just as I had hoped. My boyfriend and his brother loved it. We liked it so much we ended up eating the whole thing in less than a week (it was great reheated too!). If you're looking for a great, hearty, winter dish, I would highly recommend this! If you make it, let me know what you think or if you made any adjustments of your own. Would love to hear what you think! Also, if anyone would like an invite to Pinterest just let me know :)